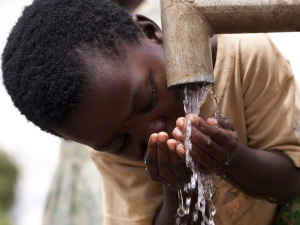 Diarrhoeal disease is a serious threat to public health in developing counties. Susceptibility is heightened by poor sanitation, and insufficient health infrastructure and limited healthcare access can make it life-threatening.
Researchers from the University of Strathclyde have been working to improve diarrhoeal disease control and prevention in Malawi by identifying major sources of infection and supporting improvements to community health activity. Their initiatives have resulted in a 30% reduction in diarrhoeal disease cases in target areas, and now reach 110,000 at-risk individuals in 150 communities in the southern region of the country.
Diarrhoea is common in many developing countries and the second leading cause of death in young children, despite being an easily preventable and treatable illness. In Malawi, for example, diarrhoeal diseases are estimated to affect 17% of the population, rising up to around 22% in children under five years old. Tackling the issue of diarrhoeal disease in vulnerable countries like Malawi could help prevent needless deaths and work towards the fourth Millennium Development Goal of reducing global child mortality by two thirds.
In an effort to decrease the burden of diarrhoea in Malawi, researchers from the University of Strathclyde – with support from a range of funders, including the Department for International Development, the Scottish Government and the Wellcome Trust – have been investigating approaches to improve disease control and prevention. By studying practices in homes in the Chikwawa District, they successfully identified faecal-oral transmission as the major source of diarrhoea. Despite 84% of homes indicating they routinely washed their hands, 75% of those tested had traces of faecal bacteria on their hands.
Drinking and washing water contaminated with disease-causing bacteria was found to be a major route of transmission, with these bacteria present in 76% of household water storage containers. The studies suggested that in order to combat infection successfully, changes were needed in not just water quality, sanitation, and household hygiene, but also access to healthcare education and community health activity.